BetOWI.com News and Updates
BetOWI.com - Site: Sportsbook | Racebook | Casino | Promotions | Bonus |

Join Here
Breaking down the best ways to bet the NFC Championship odds: Rams at Saints
January 18, 2019
The NFL Conference Championships get underway Sunday, setting the stage for Super Bowl LIII. In the NFC Championship Game, the New Orleans Saints welcome the Los Angeles Rams to the Big Easy Sunday...
Complete Article:
Read More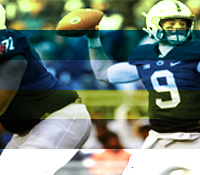 Get college football bowl betting season started with these Saturday matchups
December 12, 2018
College football bowl season starts up this weekend with five postseason matchups on the Saturday slate. Here's a look at the bowl betting odds and angles for some of those NCAA football fina...
Complete Article:
Read More
NFL MVP odds tighten up in the home stretch of the season
November 19, 2018
As the NFL season trends toward the postseason, the race in the standings isn't the only close-contested competition. The jury is still out on the 2018 NFL MVP, with a number of worthy player...
Complete Article:
Read More
NFL betting kicks off with the Falcons vs. Eagles on Thursday Night Football
September 4, 2018
The NFL season opens with a bang when the defending Super Bowl champion Philadelphia Eagles host the Atlanta Falcons in a battle of the past two NFC title winners on Thursday Night Football. The E...
Complete Article:
Read More
Best ways to bet Thursday's NFL odds for Week 1 of the preseason
August 8, 2018
The opening week of NFL preseason betting has 12 games on Thursday's schedule, including plenty of betting value if you dig into the motivation around these exhibition matchups. Here's ...
Complete Article:
Read More
Best bets in baseball heading into the MLB All-Star Break
July 12, 2018
The baseball season is almost at the midway mark, with the annual "Mid-Summer Classic" scheduled for next week. The All-Star Break is a perfect time to look at the last three and a half...
Complete Article:
Read More
Four futures flyers worth a bet to win next year's NBA Championship
June 11, 2018
Another NBA season, another NBA title for the Golden State Warriors. And it looks like the 2018-19 season will end the same way, if oddsmakers are correct with their new slate of NBA Championship f...
Complete Article:
Read More
Baseball betting fortunes will flip for these three MLB teams
May 22, 2018
The Major League Baseball season is a long, long haul for teams and baseball bettors. What we see in April and May doesn't always translate to the rest of the schedule. Teams off to slow star...
Complete Article:
Read More
---
---
BetOWI.com - Site: Sportsbook | Racebook | Casino | Promotions | Bonus |

Join Here